Born to Die in Berlin
After the previous weekend's Pokal exit, it seemed all too likely that Sankt Pauli's surprisingly good start to the season would end. In true FCSP style, they didn't disappoint (well they did, but you get the meaning). However, 90 minutes of awfulness and an evening of drinking to forget do not detract from what a great time can be had during our yearly trip to the Capital. On my third trip to Berlin, I'm trying my hardest to avoid the usual haunts. A superb AirBnB in Prenzlauer Berg allowed for morning stroll around Ernst Thälmann Park, with its spectacular Socialist Modernist Tower blocks providing a suitable back drop to the many dog walkers in the green expanses between, while grabbing a bite to eat in a local bakery offered up my first "English supporting St. Pauli?" question of the weekend.
If you fancy a quiet museum steeped in history, with free admission (well, €3 for an audio guide), the German-Russian museum in Karlshorst is well worth a visit. The room where the official surrender of the Wehrmacht was signed, along with the history and background of German-Russian relations dating from the First World War up to the Second can give a keen reader of information more than a couple of hours of education. A temperate evening made for a nice walk Oberbaumbrücke, via the Oberbaumeck to Astra Stube. This included a walk through a park where every drag of my cigarette was met with someone offering to sell me weed. The Astra Stube is a cracking little bar for the FCSP connoisseur: the bar man, taking pity on my solitude after I had traded stickers with him, introduced me to a table of fellow fans, some from the Berlin FCSP Supporters group and some from the St. Pauli darts team. Ziggy from the darts team also told me he acts as a tour guide at the Millerntor.
As conversation about St. Pauli and the relative connections around the world flowed, along with beer (I'm avoiding Astra currently – not because of the racism, just mainly because it's shit) new people walked in and the barman busily introduced new fan groups to one another. Almost like an FCSP sticker swapping/speed dating crossover.
Matchday
A decent breakfast to line the stomach, then off to Köepenick via Ostkreuz. Last year I didn't get to walk through the forest to the ground. I wasn't missing that opportunity this year. A gentleman was selling bottles of Berliner Pilsner (the DDRs Finest if you ask me) for €2, so I picked one up and got that rush of nerves you used to get as a kid on the way to the first game of the season. The walk was mainly us accompanied by Berlin fans, yet as is customary in Germany, you can walk side by side and not worry about the other person considering using the glass in his hand as a verb because your colours are different.
The Kurve was already filling up when we got in, so we found a comfortable spot high up at the back so as not to be obscured by flags because like some sort of masochist I do like to watch the football.
Union Berlin actively encourage opponents' fan displays, something USP take full advantage of. Last year they handed out scarves. This year, it was posters to be displayed, flipped over then scrunched up and thrown like confetti. Simple, but effective.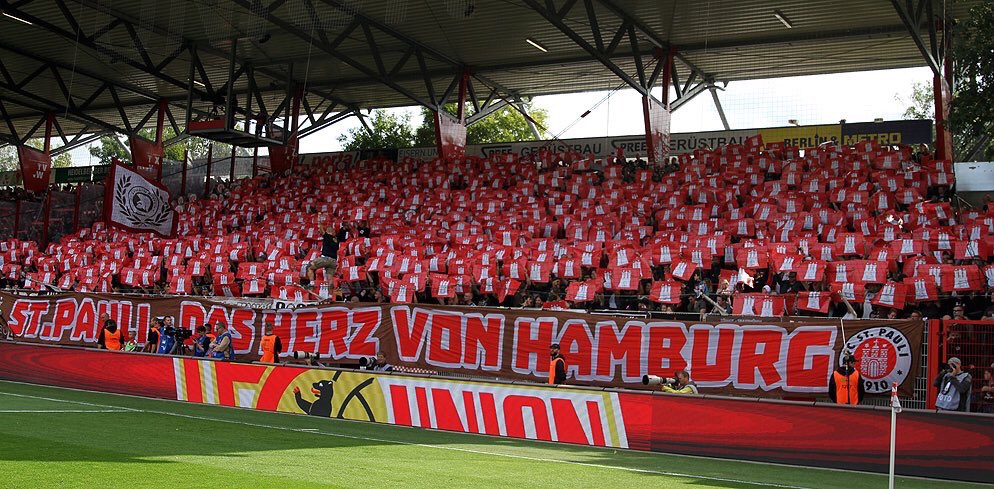 The first half was best summarised by "who was least shit?". St. Pauli clearly [say this quietly] missed Avevor at the back, and Knoll, while capable in defence, has been the engine room of the midfield, negated any forward threat. Neudecker and MMD looked lively, but everything became central.
St. Pauli cracked first: a goal only we could concede, just before half time and sapping the travelling fans' energy with a couple of minutes to go before for the interval.
At this point my bladder was full so I figured, with half time looming, I'd beat the queue for the "facilities". As I emerge from my ablutions I hear a roar. That was far too loud to be St. Pauli grabbing one back. I'm informed of the comedy of errors that was Union's second and move on to refilling my bladder in the hope the second half is merely a haze.
Chatting to fans in the ground is always fun, and the rather large man in front of me informs me "you have very good German, I hear you sing." I daren't admit I have learnt these fan songs in parrot form, and know about 30% of what they actually mean. Kind of like when you're a kid in the school choir.
The second half was mostly as bad as the first. St. Pauli were soon 3-0 down, and honestly, at this point I'm mentally checking out of the game. USP do their best to raise the volume, and as ever, the atmosphere from the travelling girls and boys in brown is impeccable. Henk Veermann bagging a deflected goal will hopefully be the catalyst for him to progress – his stature hopefully drawing our play out wide to whip some balls in. Sahin came on like he had something to prove, but his final touch was not quite there.
By the time their fourth went in, my mind had moved to food to soak up the Pils. As is customary the boys came over to thank the travelling fans, and we made for the exits and back into town.
Post-match consolations
Shönnhauser Allee hosts Alain Snack, home of the Ketwurst. Basically, take a currywurst and slot it in bread, with nicer sauce. The Ostalgie continued later that evening with a bar in Prenzlauer Berg. Passed from father, to son to son, it remains unchanged since the 1960s. Drunken exchanges about life, football and every European's favourite question to a Brit: the B word with the locals flowed like the Pilsner, Schnapps and Mexicaners we consumed.
Berlin remains a place of exploration, every corner revealing something new, ever changing and evolving. Even with St. Pauli ruining 90-something minutes of it for me every year, I enjoy it a little bit more each time.